Disciples helping Disciples since 1883
In support of our ministries, you entrust us with your gifts. Thank you! We want to honor that trust by being the best possible stewards of the resources you provide. That includes saving as many trees as possible, not to mention savings on printing and postage! Therefore, Disciples Church Extension Fund is pleased to provide you with publications that are designed to be read primarily online.
Please feel free to request a printed copy of the 2020 Annual Report or the 2020 Gratitude Report by contacting us at info@disciplescef.org, 800.274.1883, en español 866.534.1949.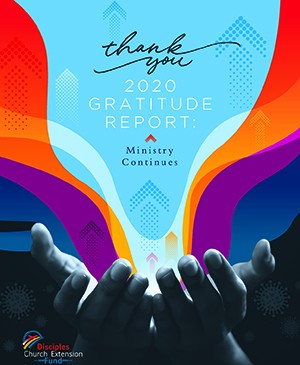 2020
With Gratitude
It is with great excitement and appreciation that we share with you the inaugural edition of Disciples Church Extension Fund's annual Gratitude Report.
In a year marked by unprecedented challenges, there were also amazing moments where God's presence shined through the darkness. The pages of the report tell the stories of churches and individuals whose generosity made lasting impact in people's lives last year. We are grateful for donors and friends like you who made it all possible.